I love the thrill of finding an item at an estate sale that I have previously admired on etsy, seen in an antique store, or come across while reading the many treasure hunting blogs of my fellow vintage lovers. This past weekend I saw this handsome fellow at a local estate sale and snatched him up. I had seen a similar item at the Brimfield antiques fair locked in a display case (so I figured this little guy was worth more than his $8 price tag).
Plus, he was looking right at me-how could I resist his charms?
As it turns out, my little French friend is an American Bisque
relish jar from the 1950's and somewhat rare.
C'est magnifique!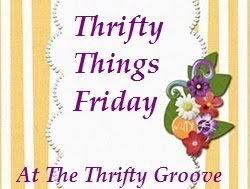 Sharing with the Colorado Lady