I looked around for a tempting estate sale this weekend in the newspapers and online, but nothing really caught my eye. I have had such luck the past few weekends, that I decided to take the weekend off. Of course, it gave me a good excuse to stop by a local resale shop and check in on a few items I have had my eye on.
You know from an earlier
post
that I can't resist strawberries. This little pitcher is going on the bookshelf in my daughter's room.
This adorable crock probably isn't very old, but I love whimsical items like this and will use it in the kitchen.
As I was driving around, I saw a sign for an estate sale (one of the ones I had passed on going to) and decided to run in. I found a huge pile of sheets and pillowcases and started digging. And when I got to the bottom, these blue beauties were patiently waiting for me.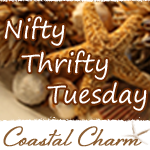 Her Library Adventures
Beez Rental Designs